Management Team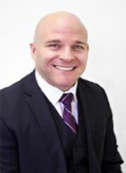 James A. Doris
Chief Executive Officer, President and Director
Mr. Doris has been a member of the Board of Directors of the Company since June 28, 2014, and its President and CEO since December 12, 2014. Mr. Doris has been instrumental in developing and implementing the Company's comprehensive growth and acquisition strategy, and positioning the Company to be a long-term, profitable participant in the Energy Sector. Mr. Doris has also been a corporate-commercial lawyer in Ontario, Canada for over 15 years, and has represented domestic and foreign clients regarding their business and investment activities. Mr. Doris' practice areas include Mergers and Acquisitions, Private Equity Investments, Joint Ventures, Corporate Finance, Corporate Governance, Dispute Resolution, Real Estate and Estates. Previously, Mr. Doris served as Executive Vice President and In-House Counsel for a real estate investment and development company in Toronto, Canada, and prior to that role Mr. Doris was an associate lawyer at one of Canada's leading business law firms. Mr. Doris graduated (cum laude) from the University of Ottawa in 2001 and was called to the Bar of Ontario in 2002.
Timothy Swift
Executive Vice President and Chief Operating Officer
Mr. Swift has more than 17 years experience in the financial services industry with a focus on energy and energy related companies. Mr. Swift's experience included research and trading of both credit and equity products. While most recently Mr. Swift focused exclusively on the private placement of highly structured middle market credit products.
Prior to joining Viking Energy Group, Mr. Swift was a founding partner and Managing Director on the Debt Capital Markets desk at Cantor Fitzgerald & Co. Prior to Cantor, Mr. Swift was a Vice President on the Cowen & Co debt capital market team. At both Cantor Fitzgerald & Co and Cowen & Co, Mr. Swift participated in more than 50 transactions raising over $5.5 billion. Prior to Cowen & Co, Mr. Swift served in various capacities at R.W. Pressprich and CRT Capital Group.
Mr. Swift holds a B.S. in Finance from Babson College.
Frank Barker, Jr
Chief Financial Officer
Mr. Barker is a Certified Public Accountant licensed to practice in the State of Florida, and has been in practice since 1978. He was co-founder of the accounting firm of Peel, Barker, Schatzel & Wells, PA in 1979. Mr. Barker left the firm in 1993, and went on to form the accounting firm of Frank W. Barker, Jr., CPA PA, and the independent consulting firm of FWB Consulting, Inc. to facilitate the provision of strategic, financial, accounting and tax-related services in various capacities to both Public and Private entities. These services have included Compliance Reporting with the Securities and Exchange Commission, the planning, preparation and oversight of annual audit functions, presentation of financial data to Public Company Boards, turn-around management, bankruptcy and asset recovery, Strategic planning for survival of troubled companies, financial forecasting and cash flow management, litigation support and forensic analysis, mergers and acquisitions and reverse mergers. During the last five years, Mr. Barker has worked exclusively on a contract basis through these two firms. Prior to that, Mr. Barker, in addition to contractual services, has also served as Chief Financial Officer of several Public Companies with Revenues in excess of $40 million, in the fields of Defense Contracting, Manufacturing, Alternative Energy, Electrical Contracting, Healthcare Research and Construction. Additionally, Mr. Barker's other industry experience include Oil and Gas, Health Care Services and Administration, Not for Profit, Retail, Distribution, Gaming, Real Estate, Professional Services, Internet Technologies, Media Communications, Web Based Technologies, Banking, Investments, Insurance, Private Equity, Municipal and County Governments, Treasure Exploration, etc. Mr. Barker has been providing professional services to the Company as an independent consultant since the first quarter of 2015. Mr. Barker received a B.A. in Accounting and Finance from the University of South Florida, Tampa, Florida in 1978.
Robert Wonish
Sr. Vice President Engineering
Mr. Robert G. (Bob) Wonish, serves as the Sr. Vice President Engineering.
Prior to this, he served as the President and Chief Operating Officer of Petrodome Energy, LLC, a privately held oil and gas exploration company in Houston, Texas from April, 2009 through the sale of Petrodome Energy to Viking Energy Group in December 2017 and continued with the Company through the end of 2018.
Mr. Wonish served as the President/COO of Striker Oil & Gas, Inc. from April 2008 until joining Petrodome. During the period of July 2002 to March 2008, he served as the President/COO of Petroleum Engineers, Inc., the President of CYMRI, L.L.C. and the President ... of Triumph Energy Inc., all related companies.
Mr. Wonish served as the President/COO of Panaco Inc. from October 2000 to June 2002. He joined Panaco Inc., in January 1992 as a Consulting Engineer.
Mr. Wonish, 65, is a Mechanical Engineering graduate of the University of Missouri at Rolla and began his engineering career at Amoco Corporation in 1975 in Houston.
He has been a Director of Stack-It Storage, Inc. (Alternate name-Caprock Oil, Inc), a Director of Striker Oil & Gas, Inc., a Director of EnerJex Resources, Inc. from May 2007 to April 2010, a Director of Stratum Holdings, Inc. from May 2006 to May 2008, a Director of FieldPoint Petroleum Corp. January 2003-June 2005, and a Director of Panaco Inc., during his tenure as President/COO.